At first glance, selling stunning waterfront property or a majestic hillside home with a view should prove a relatively straightforward task. After all, the property and location of your Muskoka or Collingwood listing speak for themselves. No doubt, you'll get a few offers for the land alone.
What is a challenge is maximizing the home's value and generating interest from buyers willing to meet or exceed your asking price. One of the best methods for achieving your sales goals is through intelligent staging.
We're not talking about significant investments in repairs or updates either. Instead, these are simple, tried-and-true, low-cost approaches that will improve a property's market position and enhance its value — including the sales prospect of a multi-million dollar luxury residence.
Below, we explore four foolproof tips to stage your home successfully.
A clean home is a valuable home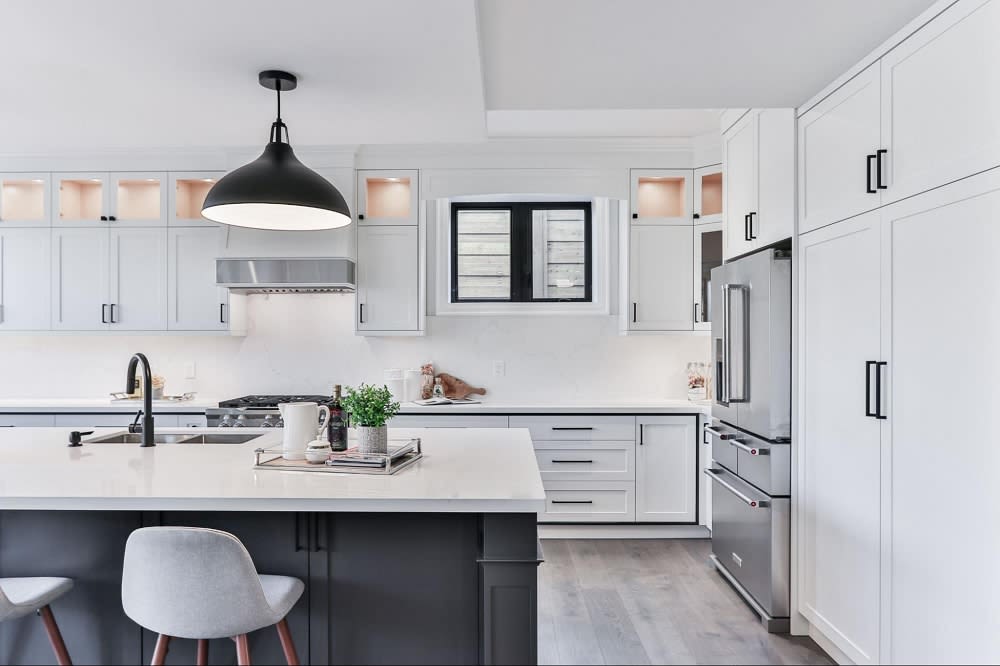 Photo courtesy of Unsplash
Consider for a moment any time in the past when you traded in a vehicle at a dealership or listed it for private sale. What was the primary step you took in prepping your car?
If you're like most individuals, you washed the exterior and vacuumed and wiped down the interior.
Why the extra effort for a depreciating asset you want to sell off? Added value, of course. Every little thing you can do to squeeze extra dollars from a potential sale is worth it.
What does that have to do with staging and selling your home, one of the most reliable ways to build wealth due to its appreciation factor? Because cleaning your home before its listing is also the most lucrative way to add value without making a single physical improvement or repair. The increase could be anywhere from 5% to 10%.
Yes, a clean, tidy home that shows well is that important.
To get started, cover the basics:
In kitchen and bathrooms, wipe down cabinets and drawers, inside and out, as well as appliances, fixtures, and hardware.

Scrub tile floors, treat and polish hardwood, and vacuum or deep clean carpets and rugs.

Wash windows, inside and out, replace or repair damaged screens, replace, remove, or clean window treatments.

Dust everything — ceiling fans, electronics, furniture, light fixtures, the top of your refrigerator, and the bases of your bookshelves. Don't neglect areas where dust loves to collect, such as baseboards, molding, corners, and vents and air returns.
Apply a similar strategy to your home's exterior and utility spaces, such as the garage. The front yard and facade are of particular importance. It's the property's only opportunity to make a positive first impression.
But cleaning isn't the only aspect of laying the foundation for a well-staged home.
An uncluttered canvas for new buyers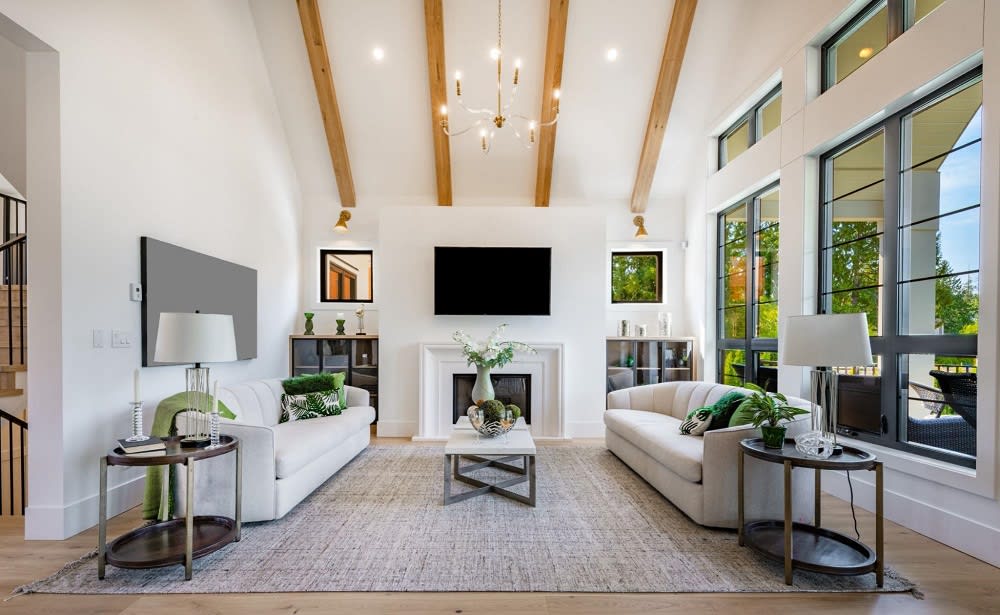 Photo courtesy of Shutterstock
A pristine, spotless listing will fail to generate attention if it's crowded with personal effects or stuffed with oversized or mismatched furniture. Buyers want to envision their future selves creating memories of their own when touring a home. It's difficult and distracting to do so when the current owner's entire life remains on display.
Even if you're itching to sell and ready to move on from your current address, decluttering can prove a taxing and emotional experience. But it's critical to the staging process. The sooner you detach yourself from the residence you're selling, the sooner you'll get it sold and move on to your next home.
The goal is to create a nearly blank canvas for potential buyers to envision themselves. You can do so by taking these steps:
Remove bulky, oversized (or lived-in) furniture

Do the same with any item that serves no other purpose than to take up space

Remove family photos, thin out wall art, and pack up personal heirlooms

Stow away excess small appliances in the kitchen and extra blankets, quilts, and pillows from living areas and bedrooms

Maintain only the most necessary cleaning products or utility items under sinks or in your laundry room or garage
While it's not always necessary to physically stage every room in your house, each space should be cleaned and decluttered.
A clean, streamlined home that flows well and is free from unnecessary clutter is immensely welcoming. It simplifies your staging, makes it easier to care for the house during the listing process, and increases its appeal to a broad range of buyers.
Craft a visually striking home

Real estate is as much about perception as it is about a great location, first-class amenities, or any other tangible item on a buyer's wish list.
A buyer will often opt for a home they feel comfortable in — one that doesn't necessarily check off every single must-have but offers the most livability. It's the home that may not match their every last want, but certainly meets every single one of their needs.
Such is the case with a number of the spectacular homes around Georgian Bay. Even with stellar curb (or lakeside) appeal, it's not always the flashiest or highest-priced house within their budget that will draw a buyer's eye. They are willing to forego soaring 15 to 20-foot ceilings, ultra high-end appliances, or fully appointed boat houses for a property with abundant storage, well laid-out floor plans, and flexible spaces that can serve many purposes.
Assess how your home will appeal to buyers. Highlight the positives, sure, but also pinpoint shortcomings you must overcome to ensure the all-important positive first impression.
Work with your real estate agent to define what's popular in the market, and flex your home to match those needs. Even if yours is the most stellar listing on the block, employing the right visuals will amplify your wow factor and land you an even more lucrative sale.
For example:


Don't have a dedicated office in a market where home shoppers are clamoring for it? Stage an extra bedroom or den area as the ultimate at-home workspace.

Are your rooms slightly smaller than other available homes at a similar price point? Stage with the minimal amount of furniture necessary to show off your home.

Lighting also works wonders for broadening the appeal of a property's interior. Updated light kits and fixtures, especially in the kitchen and bathroom, will transform otherwise drab or dated spaces.

Want to enhance the sense of storage in your house without actually adding more storage? When cleaning and decluttering your residence, reduce the contents of each bedroom's closet by at least half (and two-thirds when possible). Repeat the same exercise for your pantry, and kitchen, utility room, and bathroom cabinets.

Even something as simple as lightening the load on bookcases will help your home pop with visually arresting voids.
And what about those soaring 20-foot ceilings your home doesn't have? No worries — simply stage the following:
Low-slung furniture, such as platform beds and low-profile couches, and sling-back chairs

Windows adorned with light, flowing drapery hung as high as possible that collect on the floor (if you can, or have actual floor-to-ceiling windows, skip the treatments altogether)

Accent walls with tall, narrow mirrors that hang higher than other pictures

Or paint the room white
Staging doesn't just showcase what a residence is, but what it can be for a future buyer. Even in luxury residences that require little help to impress, use staging visuals to your advantage to showcase your property and ace the critical first impression.
Small touches, major impact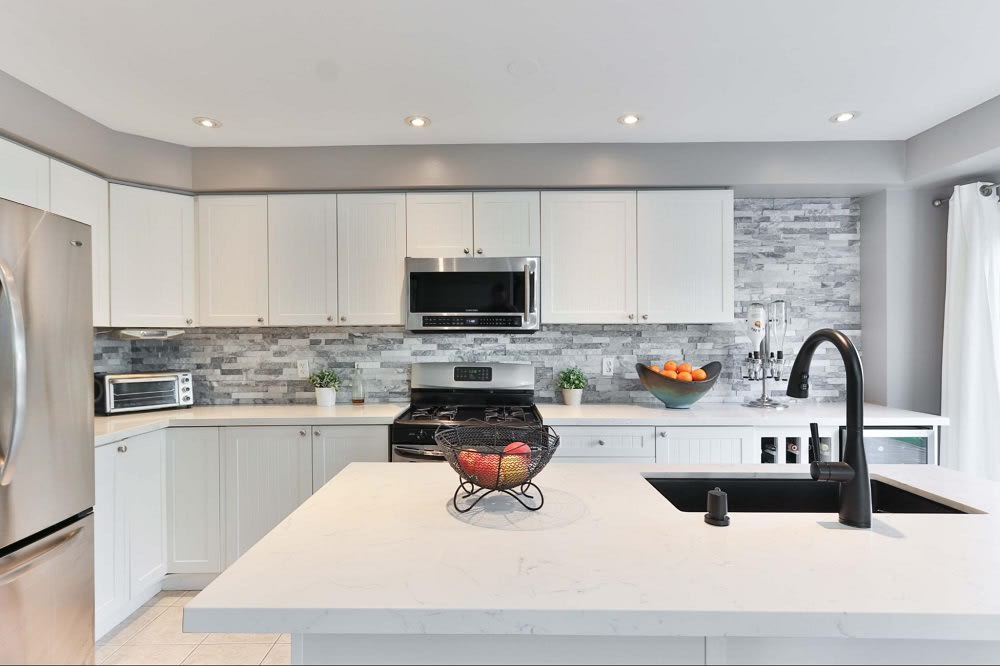 Photo courtesy of Unsplash
As you work to enhance your home's value and market visibility, understated staging techniques can have a massive impact on your listing appeal.
For example, busy kitchen countertops hide the area's actual cooking space. Your food prep area should feature only four items when listing — hand soap by the sink, a functioning coffee maker, a well-organized knife block, and a small vessel for spatulas, oversized spoons, and tongs. Even then, those latter two items are optional.
Keep your home fresh for the duration of the listing, even when it goes under contract. For starters, you have invested plenty of time, effort, and money in prepping for sale. Each tour is an opportunity to impress a buyer and pay off your investment with a high-value offer. Maintaining your pride in ownership with a home that is immaculate, odor-free, and easy to tour will capture plenty of serious high-dollar buyers.
Finally, don't forget the need to present digital home shoppers with an impressive array of images and virtual or video tours. Once you've cleaned, decluttered, and staged your home to your liking (or your listing agent's approval), invest in professional, high-quality photography. The better the photos of your staged home, the more interest you'll draw from your listing single most vital marketing channel.
Are you ready to list your premier Georgian Bay luxury home?
Contact Storey Badger today
to start your home selling journey. From securing a quick closing on Muskoka luxury real estate to landing a lucrative deal on your Collingwood home for sale, allow Storey and his team's years of experience and expertise to be your guide to Central Ontario's luxury real estate market.
*Header photo courtesy of Shutterstock