Muskoka has been named one of the best places for a summer trip by
National Geographic
, and those looking at Muskoka real estate have several reasons to consider buying in the area. Not only does this rustic region feature splendid views and still waters, it also has an excellent selection of restaurants.
Those considering Muskoka homes for sale can count on the great food at these five restaurants — a sampling of the area's culinary perks. From seafood to steakhouses, with leeway for dietary restrictions, the following locations provide meal options every guest can enjoy.
Water's Edge Wine Bar and Grill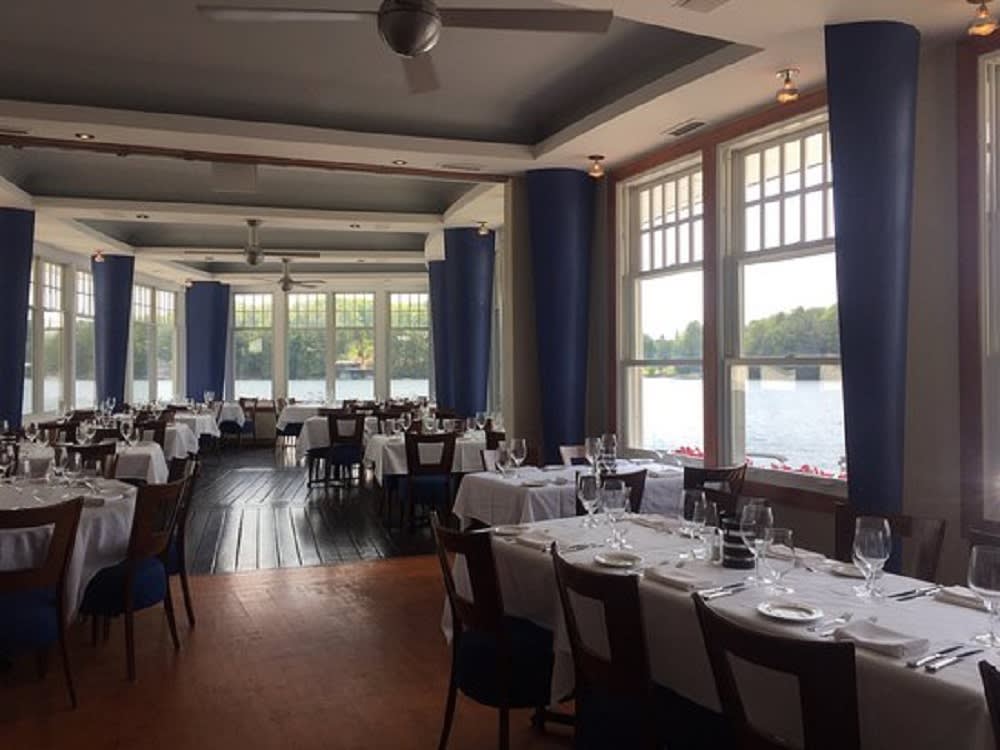 Photo courtesy of TripAdvisor
Located on the shore of Lake Joseph,
Water's Edge Wine Bar and Grill
offers beautiful lakeside views during its season of operation (June 23 through Labor Day). In addition to the scenery, Water's Edge patrons enjoy access to its full wine list and delectable food. To escalate appetizers like shrimp diavolo or chicken wings, ask your server for the house-made Edge Xtreme Sauce (a mixture of four very spicy peppers). Dinner mains include fish tacos for lighter eaters and steak on the other end of the spectrum. When ordering, remember to ask a sommelier to describe the different wine pairings available.
Regarding seating, Water's Edge patrons can sit inside in the dining room or outside on the popular patio (weather permitting). Reservations do not apply to the patio. For a table in the dining room, reservations are recommended from 5 p.m. to 10 p.m.
Water's Edge is a favorite destination for famed athletes and entertainers, and at the same time, couples and families are always welcome. The restaurant belongs to Savour Muskoka, a high-end culinary organization in Muskoka. All told, Water's Edge is a must-try for those interested in buying Muskoka real estate.
Riverwalk Restaurant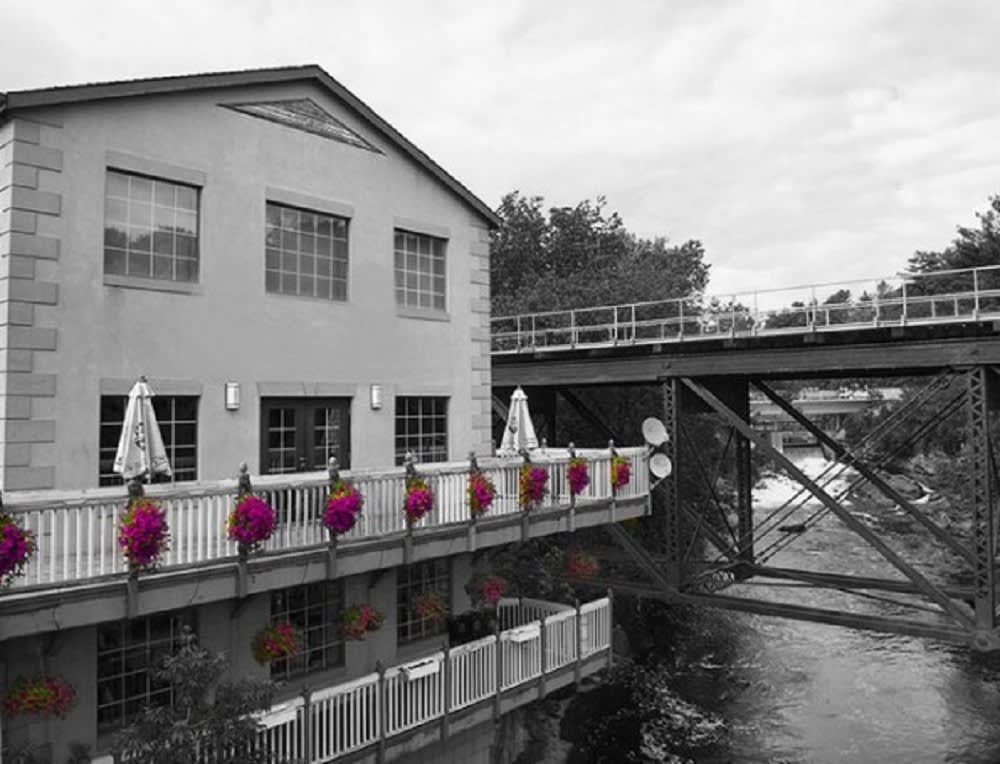 Prospective buyers of Muskoka homes for sale can count on a delicious lunch and dinner location by way of the
Riverwalk Restaurant
. Built next to Bracebridge Falls, guests enjoy a view of the running water from the windows indoors and the outdoor patio. Riverwalk Restaurant prides itself on its use of local ingredients and a seasonal menu, keeping options exciting and fresh for those who dine in year-round.
Although the menu changes, those who grab lunch next to the falls can always dine on a selection of chicken, beef, and fish dishes, such as the seven-ounce Muskoka raised beef burger or their grilled salmon plate. The dinner menu is well-rounded and delicious, with entrees like oven-roasted Quebec duck breast and grilled pork loin steak. Complete with an extensive red and white wine list and craft beers, this restaurant is well-equipped to satisfy all guests' tastes.
Tulo's Taqueria Muskoka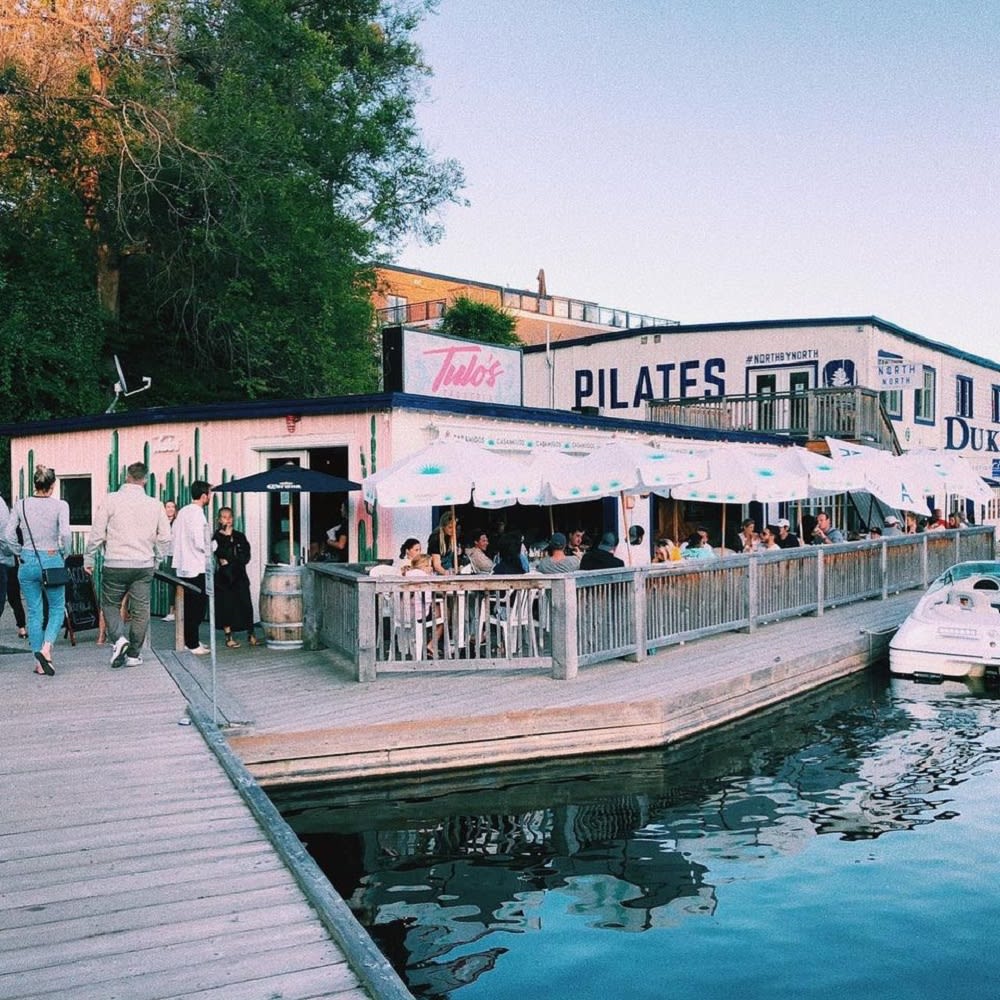 Photo courtesy of Tulo's Taqueria Muskoka
Tulo's Taqueria Muskoka
, known simply as Tulo's, is located in the happening summer town of Port Carling. From the moment you set your sights on this restaurant's lively waterside exterior, you know you're in for a good time. The restaurant sits on the Muskoka River, and its menu is as fun and fresh as the indoor and outdoor seating environments. All food here is inspired by Mexican street food and is sure to please eaters of all ages. The fish and shrimp tacos rate highly, as do handmade cocktails like their Red Bull watermelon vodka. An insider tip: there's usually a bit of a wait here on nice days, so ask your host or hostess about the app they use that tells you how many parties are ahead. This way, you can amble around in nearby shops until your table is ready. Ultimately, those looking at Muskoka homes for sale can count on this restaurant to have precisely what they want to eat, even if they don't know themselves.
Dock of the Bay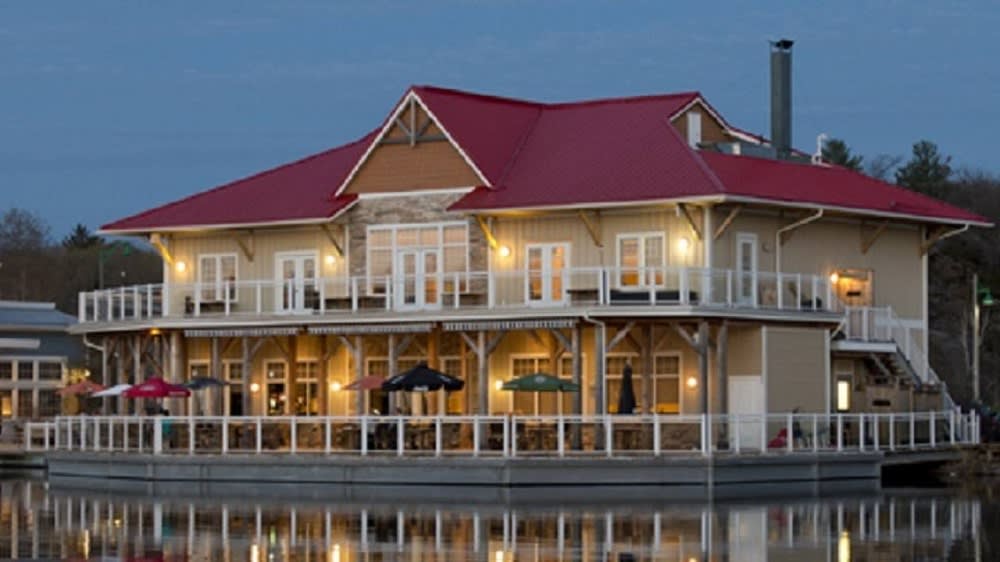 Photo courtesy of Dock of the Bay
Situated on the banks of the serene Lake Muskoka,
Dock of the Bay
is unmistakable with its red roof and neighboring dock jutting into the water. Those wanting to go out for lunch or dinner can enjoy the classy surf-and-turf variety this restaurant provides from its indoor or picket-fence patio seating. When buying Muskoka real estate, this is a destination to keep in mind for a gorgeous sunset view.
Dock of the Bay feeds those who stop in well with its large lunch, dinner, and wine list. For a midday meal, guests can enjoy king crab cakes, seafood and meat house-made pasta dishes, or a decadent dock steak selected from the highest AAA cuts. This restaurant's high standards are also notable in its dinner menu, with additional entrée selections like a Persian lamb rack and Atlantic salmon. Dock of the Bay knows a meal would be incomplete without a drink, and its extensive wine, cocktail, and spirits selection ensures nobody goes thirsty.
Crossroads Restaurant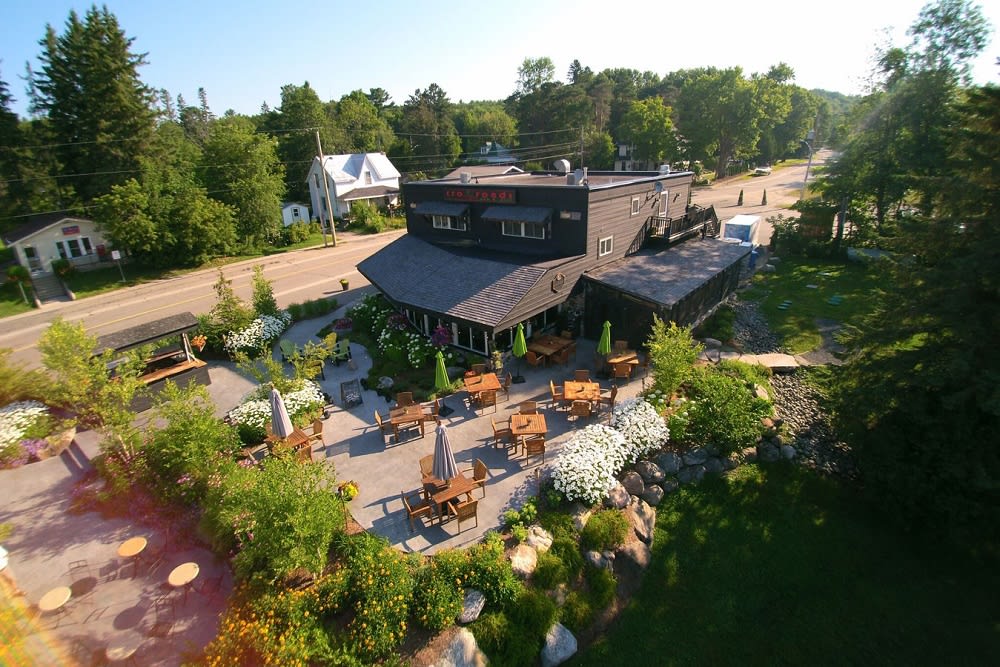 Photo courtesy of Crossroads Restaurant
Along with the lush greenery surrounding it, the dark-wood interior of
Crossroads Restaurant
pulls on the surrounding nature's serenity to add to its calm and enjoyable ambiance. With an indoor patio and bar seating, this is a great afternoon and evening spot to eat for those interested in Muskoka real estate. Crossroads' dedication to pure, simple, and delicious cuisine creates an elevated and enjoyable dining experience for its guests.
Guests with various dietary requirements can enjoy elegantly-plated meals such as vegan ratatouille, nova scotia scallops, black tiger shrimp, or Chef Richard's signature cut. For those who want a complete, three-course meal experience, the Chef's Daily Menu guarantees an awe-inspiring culinary experience chosen by the chef. Also available are unique cocktails, a comprehensive wine menu, and draft beers for guests to pair with their meals.
Are you interested in Muskoka real estate?
Undeniably, the spanning lakeside views and vibrant plant life are a significant draw to Muskoka real estate, and there's no better way to enjoy these views than over a delicious meal! These five restaurants are only some of the numerous spots to eat that make Muskoka a great place to live. For help finding the perfect home for you, contact trusted local agent
Storey Badger
to guide you through the process.